An article that was published on MarketingSherpa website reveals some information about what affiliate marketers think of affiliate networks and which network is the most popular among affiliate marketers.
According to MarketingSherpa the top 5 affiliate networks are:
Commission Junction
LinkShare
Performics
Pepperjam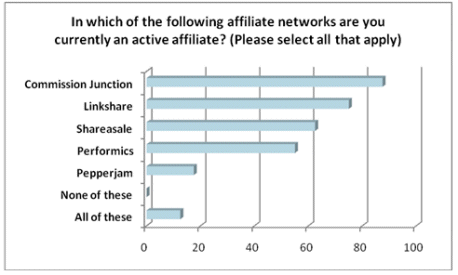 I bet that most people when they read this kind of an article sign up with the networks on the list that they don't already members with.
Before you do so allow me to give you a little advise. It refers to any affiliate marketer but especially to a newbie: Do not follow the networks that on the mainstream.
CJ (commission junction) is the most popular affiliate network with the largest number of affiliate marketers. They have a great system and a great service. However, wouldn't it be wiser to find a small network with some exclusive offers? On CJ it will be hard for a newbie to earn money (especially with PPC). There are lots of experienced affiliate marketers (like me

) that doing very well on CJ. A newbie will find that it's not easy to compete with veteran affiliate marketers and most likely he will end up loosing lots of money.
At least every week I find another new affiliate network. There are lots of them. Find a network that has a product that is related to your niche and promote it. Better to find exclusive affiliate offers because a lot of the affiliate programs can be found in several different networks in parallel. An exclusive offer on a non-mainstream network almost for sure grantee less competition with other affiliate marketers. The downside with non-mainstream affiliate networks is that it takes times to find the right products to promote and also you need to carefully read the user agreement and some more documents for each network to make sure that a real company is behind it.
If you like this post then please consider subscribing to my
full feed RSS
.